Regardless of the seasonal slowdown, the Gold Coast Airbnb market continues to grow at a rate of 4.3% this quarter. The total number of active rentals at the end of June 2019 was 7,700 with 77% of those being entire home rentals. 36% of the total active properties are available full time, up from 33% last quarter.
Over the past 6 months we have seen a 4 % increase in the number of entire homes listed on Airbnb, which are available for rent full-time. This trend for property owners to enter the short-term market as an alternative source of rental income, doesn't seem to be slowing down. It may be that Airbnb has made the short-term rental market more accessible for owners, or perhaps more people are realising how well short-term works, particularly in a tourist destination such as the Gold Coast.
Rental demand for Airbnb properties have dropped back to 56% during the second quarter of 2019, with the occupancy rate also dropping to 50%. Although there was a decrease in number of bookings, revenue grew by 4.1% this quarter, with both average daily rate and occupancy increasing over June.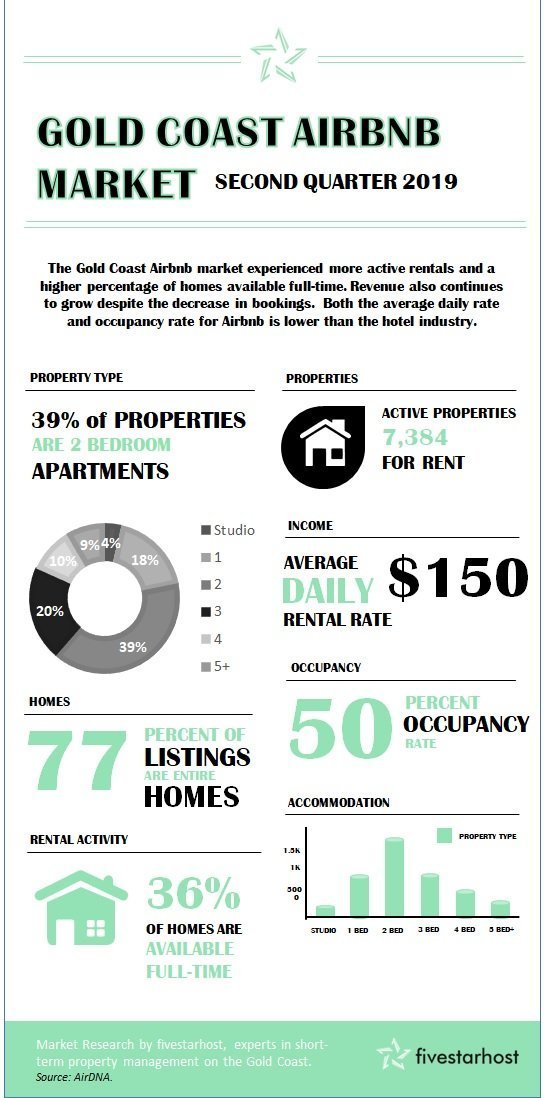 Studio apartments and large homes are the slowest growing accommodation type, whilst the number of 3-4 bedroom homes are increasing steadily. Competition is strongest among 1 and 2 bedroom apartments. Any new hosts will find themselves competing against established superhosts with modern apartments in great locations at affordable prices.
As of June 2019, the average daily rate achieved for a property listed on Airbnb was $150 with an average monthly revenue of $1,800. The hotel industry recorded an average daily rate of $197 and a decrease in RevPAR to $139. Hotels still dominate the Gold Coast accommodation space, as they experienced 70% occupancy rate, with a higher number of bookings overall than Airbnb properties.
Source: Airbnb, AirDNA, CBRE